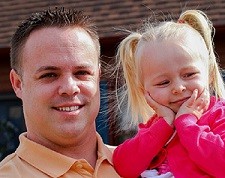 Bill Woods was originally known in the diabetes online community for his positivity through blog and videos at 1HappyDiabetic.com, but he has since become an integral part of the type 1 diabetes community, Glu, which is designed to "accelerate research and amplify the collective voice of those living with type 1 diabetes."
Recently, Bill Woods was chosen to be part of the Bionic Pancreas patient trials. The Bionic Pancreas, created by diabetes research engineer and father of a son with diabetes, Ed Damiano, combines an insulin pump, a glucagon pump, and a continuous glucose monitor to take the thinking and the fluctuations out of daily diabetes management with non-diabetic blood sugars as a result.
Father of 2 young kids, Bill took a little time out of his busy schedule to chat with us about the Bionic Pancreas and life with diabetes.
You've been one of the select few type 1 diabetics in the country to have already experienced the Bionic Pancreas! Can you describe what a day-in-the-life of a Bionic Pancreas felt like?
I would love to say it was a diabetes-less bliss all the time but there was an around-the-clock nurse supervision and nighttime IVs that were involved in the study protocol. But enough with the downsides! Having a device make a majority of your diabetes decisions and waking up in range everyday…I'll take one!  It's hard to put into words the mental relief this device allowed me to have. I have been so calloused with my diabetes decisions over the year that to have it reduced so dramatically was beyond impactful.
With any technology, from smart-phones to awesome medical devices, there are flaws or aspects that need improvement and development — I think many are hesitant to consider something like the Bionic Pancreas merely because it requires the user to wear 3 different devices all at the same time…how stressful or challenging was that for you?
I get this question a lot. Let's say that this isn't the final version of the device. But with that said, I would wear double, even triple, the amount of infusion sets and sensors. It looks like a large amount to wear but really for me it was just one extra insulin pump.   What you don't see is the overall feeling of being well with numbers in range and not having to guess at carbs or glucose corrections.  That is the 300 lb. gorilla…not the device attachments.
Aside from the Bionic Pancreas, what other piece of diabetes technology do you value most, and why?
Without a doubt it is a continuous glucose monitor.  The value of seeing trends to save a serious low is priceless. Add in the fact you are recording your numbers every 5 minutes at night. This all helps you get numbers in range for the morning…which is most important for me.
In your work at MyGlu.org, you hear from so many different people with type 1 diabetes across the globe through polls and research…what information or poll results around technology have been the most surprising?
We have done a number of interesting questions and surveys on Glu. One that surprised me the most was that based on respondents, over 40% did not have a glucagon kit. And one of the leading reasons why was because their doctor never mentioned it to them.
Wow – that is actually very worrisome. And that definitely sounds like a place where the Dario App would help instill better (and easier) communication between doctor and patient.
Thank you for sharing your insight, Bill!