All-in-One Smart Glucose Meter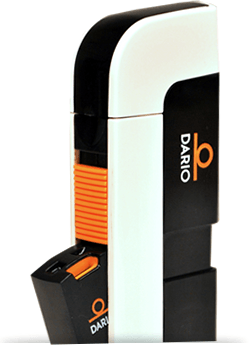 The Dario All-In-One Smart Glucose Meter is specially designed to fit your lifestyle in the digital age. This sleek, complete glucose monitoring solution includes a simple-to-use glucose meter, a disposable test strip cartridge holding 25 test strips, and lancing device – and easily fits in your pocket. Using the technology and mobility of your smartphone, the Dario connects to your mobile device and logs your blood glucose measurements, allow you to share your results with caregivers and doctors – no matter where you are on the globe.
Why You'll Love the Dario Smart Glucose Meter
Connects directly to your Smartphone – no need for extra cables or adapters
Rapid results – receive your blood glucose reading within 6 seconds
Accurate – Dario accuracy meets ISO standards with only a small blood sample
Pocket-Size Meter – easily fits into your purse or pocket, no need for a bulky pouch or case
Battery free – the power comes from the SmartPhone. No need to carry extra batteries for your glucose meter
Strip Cartridge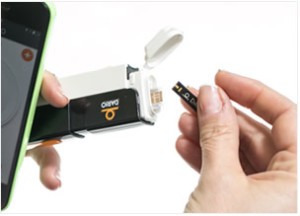 Each strips cartridge holds 25 disposable strips. Reloading your strips is simple, just pull out the old cartridge and insert a new one.
Glucose Meter
The simple-to-use Dario Smart Glucose Meter automatically tracks your blood sugars with a tiny meter that plugs into your phone's audio jack or lightning port. Blood glucose readings are directly tracked, charted, and analyzed for you.
Lancing Device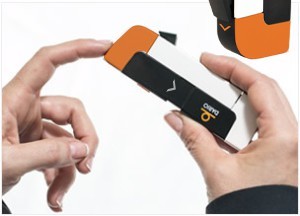 The Dario All-In-One Smart Glucose Meter contains a lancing device for convenient blood glucose testing. Simply place your finger on the lancet end of the Dario, pull down on the lancet slider, and push the release button to use.
Smart Mobile Device Integration
The Dario Smart Glucose Meter is cleared for use with a variety of mobile devices. The glucose meter pops out of the all-in-one device and is plugged directly into the headphone socket or lightning port of your smartphone. Your blood glucose readings and additional data are automatically synced each time you connect your Dario. Your personal data is stored securely in our cloud server for you and your medical team to reference.
Web Portal
With the Dario BG monitoring system, you also have the option to view and share your results through the Dario WebPortal. Digitizing your diabetes information with Dario's cloud-based software provides you with a seamless way to record, track, analyze, manage, and share your data in one integrated platform. Your synced and up-to-date data is available for your healthcare team and loved ones to easily access.

The information provided is not intended to be used for medical diagnosis or treatment or as a substitute for professional medical advice. Please consult your physician or qualified health provider regarding your condition and appropriate medical treatment. Individual symptoms, situations and circumstances may vary.